About Cooking...

I love the process of trying new recipes and a sweet sense of triumph. More importantly, every time I cook for my family and friends, they beam a dazzling smile at me and strengthen my commitment to giving.
---
About Badminton...

Playing badminton is exciting for me since it requires speed and accuracy. Moreover, I enjoy the feeling of achieving goals with teammates.
Powered by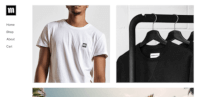 Create your own unique website with customizable templates.